Our plus
During the last 10 years, Bieffe has specialised in horizontal filing systems for answering the needs of the Industry, Museums and Government Offices.
Our team remains at your disposal for the realization of specific projects.
Our head office is located in France, a few miles away from Charles De Gaulle Airport, where we maintain a full Show-Room facility complete with free planning service and marketing department which handles worldwide sales.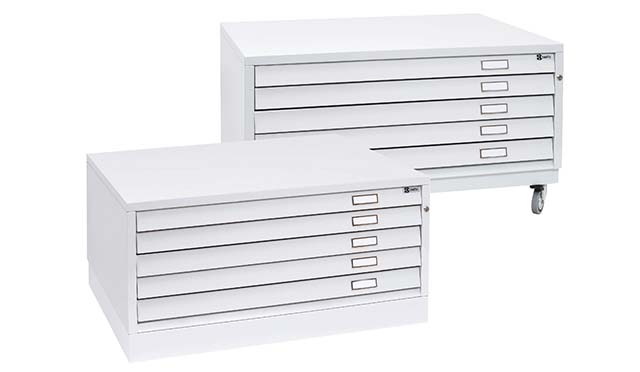 Our filing cabinets
Nos meubles à tiroirs sont composés de trois éléments : le bloc tiroirs, le dessus et le socle. Les blocs tiroirs étant superposables, il est toujours nécessaire de prévoir un dessus de finition pour recouvrir l'élément supérieur. Un socle optionnel, fixe ou mobile, vient compléter l'ensemble.
Nos meubles sont disponibles en blocs de 5, 7 ou 10 tiroirs permettant un très grand nombre de compositions. Les tiroirs, livrables en plusieurs hauteurs, offrent trois types de façades (inclinées, droites ou rabattables) et deux types de poignées (filantes ou chromées). Ils sont équipés d'une butée d'arrêt de fin de course, d'un retour métallique anti-enroulement, de glissières montées sur roulements à bille et sont extractibles aux 2/3 (extraction totale sur demande). Ils supportent une charge uniformément répartie de 35 Kgs par tiroir.
Une serrure de sécurité permettant l'utilisation d'un passe-partout est livrée en série et nos meubles peuvent recevoir, sur demande, un système anti-basculement ne permettant l'ouverture que d'un tiroir à la fois. Les meubles Bieffe sont certifiés ISO 9000 – ISO 9001 et sont fabriqués dans le parfait respect des règles environnementales. Ils bénéficient d'une garantie de 5 années.